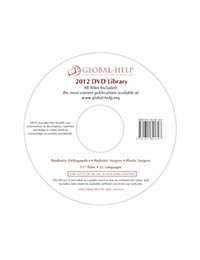 Details
With over 100 publications and languages collected from our web-site, the first edition of the Global HELP DVD Library contains the complete versions of all available HELP titles and translations originally produced or reprinted for the public up through 2012.

This a slim, lightweight, and easy way to own and distribute a large number of medical texts -- all without the need of an internet connection. The DVD-Rom is compatible with any version of Windows, Mac, or Linux, as long as there is a working web-browser and PDF reader.

We are excited to bring you this DVD Library, and as HELP's collection continues to grow, later editions will even include all of the updates released after the original printings.

Thank you to both Lippincott Williams & Wilkins, Seattle Children's Hospital, and everyone else for their support with the titles included in this project.

Note: Because of legal agreements, this DVD Library is only available for developing countries, or for those intending to bring it to developing countries. For a list of authorized countries, please click here, and if there are any questions or other needs, feel free to write to us for details.

HELP offers all DVDs without profit.
Survey
As thanks for the free download, while you wait, please help us out by filling out a short, voluntary, and confidential survey.