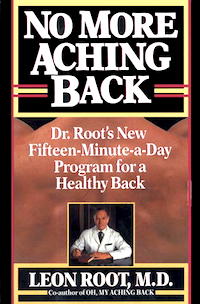 Details
If you are one of the more than 80 million Americans who suffer from back pain, this is a book you can't afford to be without.

With his trademark warmth and accessibility, Dr. Leon Root explains how a back examination is conducted and what tests a doctor performs to determine the exact cause of your back pain. He describes the structure of the back, how it functions, and how these functions can break down in an unhealthy or damaged back. Other sections of the book describe how back problems are identified and treated and offer short-term and long-term solutions for alleviating and avoiding back pain.

Dr. Leon Root, co-author of the classic best-seller, "Oh, My Aching Back", presents comprehensive information on the diagnosis and treatment of back problems.
Survey
As thanks for the free download, while you wait, please help us out by filling out a short, voluntary, and confidential survey.