Apply For A HELP Scholarship
Global-HELP has offered scholarships to students and medical/health professionals interested in developing new publications.
In the future, scholarships will be made available again to individuals from the U.S. and abroad who are working in developing countries. Average funding ranges from (U.S.) $1,000 – $3,000.
Aspiring medical student Kelly Ledbetter was the first recipient of HELP's scholarship. Please continue below to read her story of the experience.
To learn more about application and publication requirements, please watch this space. Overseas providers working in developing countries will be especially encouraged to apply.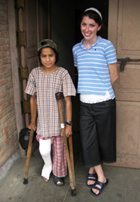 Summary By Kelly Ledbetter
Over the last year, like many college seniors, I wasn't sure what the future held. All I knew was that I wanted to take advantage of my gap-year between graduation and medical school doing something meaningful and exciting. What actually happened was much better than I had imagined. As a Global HELP Scholar, I ended up spending my gap-year traveling halfway across the world to the small town of Banepa, Nepal to volunteer at the Hospital & Rehabilitation Centre For Disabled Children (HRDC) for two months.
Although Dr. Lynn Staheli, the Director of Global HELP, gave me the contact information of doctors around the world, numerous factors influenced my decision to volunteer at HRDC, the first being location. I had always wanted to travel to Asia, and I specifically focused on Nepal because of the support from Dr. David Spiegel, a colleague of Dr. Staheli's. Having volunteered at HRDC nine times, Dr. Spiegel was a fantastic resource, who was able to refer me to particular Nepali doctors and to tell me what it was like live and volunteer in Nepal. However, I was ultimately drawn to HRDC because of its mission and patient population.
HRDC is a tertiary care hospital whose goal is to provide treatment to underprivileged and physically disabled children. Their vision to help form a society in which individuals, particularly children, can live as equal citizens with optimum quality of life, independence, and participation, captured my imagination and inspired me to volunteer at the center. Upon my arrival to Banepa, I learned that the dedication of HRDC's faculty and its partnership with the non-governmental organization, Friends Of The Disabled, allowed them to realize this goal. The maximum patients have to pay is 7% of their total hospital bill and even this minimal charge can be waived if needed. As a result, children from across the country come to HRDC, often traveling for many days to reach the hospital, and there is a diverse patient population of varied economic backgrounds, ethnicities, and education.
As both a volunteer and a Global HELP Scholar, I had several goals: to gain insight into global health, to dedicate time and energy to the hospital and patients, and to research a topic for a publication for Global HELP. The doctors, physiotherapists, and staff of HRDC all helped me achieve these goals by allowing me to shadow them and explore the hospital. Mondays, Thursdays, and Fridays were admission days and I would spend my time going on rounds with the physicians, observing the doctors in the outpatient department, assisting physiotherapists, and even playing with patients in the ward. As HRDC is a teaching hospital, the physicians and residents were happy to tell me about the diseases they frequently saw, explain why they chose particular treatments, and demonstrate assessment techniques. Tuesdays and Wednesdays were dedicated to surgeries, and on those days, I was allowed to scrub in and observe how Nepali surgeons corrected post-burn contractures, osteomyelitis, clubfoot, torticollis, syndactyly, neglected or malunited fractures, and other interesting orthopaedic problems. In addition to the daily duties of a volunteer, I also helped develop new assessment forms for patients with developmental hip dysplasia and patellar dislocation, and created medical illustrations for a Surgeon's Manual of various procedures. Overall, my experience at HRDC taught me an incredible amount about practicing medicine and allocating resources in a rural area of a developing country. Of equal importance, volunteering at HRDC made me even more enthusiastic about becoming a physician and gave me insight regarding future specialties I might like to pursue in medical school.
The two months I spent in Nepal also provided me with a wealth of ideas for a Global HELP publication. The topic I am now concentrating on is the care and prevention of post-burn contractures, which are regions of scarred tissue that drastically reduce joint mobility and functionality. I became most interested in this topic because a large number of HRDC's patients are often children with grievous burn contractures on their upper extremities. This is a major problem in Nepal as families frequently have open fires in their homes for cooking and heating. Since these fires are not shielded, and are often at ground level, burn injuries are very common in children. To learn more about this topic, I assisted with a basic chart review of 700 patients with post-burn contractures. As part of a follow-up study, I helped design an assessment and history form for incoming post-burn contracture patients. When I return to Nepal, I hope to continue investigating this topic, particularly how post-burn contractures can be prevented, surgically treated, and how the right physical therapy and dressings are necessary to prevent re-contracture and infection.
A Typical Day
The Wake Up Call
Although nobody who knows me would call me a morning person, my typical day in Nepal would begin around 5:30a.m. This early start was due to the fact that on every morning of August and most of September, a procession of Buddhists would make a pilgrimage to nearby holy shrines and temples at sunrise. These processions were always accompanied by musicians who played horns and drums and were impossible to ignore. In case I fell back asleep, the yoga center nearby also started around 5:30a.m. I typically thought of yoga as a quiet way to meditate and stretch, but this center believed in starting the class by laughing at the top of their lungs, including the leader who used a megaphone. The result was an unsettling laughter that lasted for about two minutes. Needless to say, I did not need an alarm clock for the entire visit, and when I return I will not disregard the earplugs recommended by Lonely Planet.
Traveling To The Hospital
The head of our host family, Lok, told all of us (even us girls) that going to the yoga center would make us more virile, but most of the time we opted to do yoga on the roof at 6:00a.m., a much more humane hour. After an invigorating stretch, we would take a gamble with the showers (sometimes nice and toasty, sometimes freezing). Then we'd dig into a delicious meal of french toast and banana lassi or tea before setting off for the hospital. HRDC was up a mini-mountain, and it would take about 40 to 45 minutes to walk there depending on the weather. The monsoons lasted unseasonably long the year I visited, so we sometimes had to wade through flooded roads to reach the hospital. More than one volunteer was leeched along the way, but I was always spared, despite once losing a flip-flop in the river. Because the one paved road, the "highway" where cars can go a speedy 25kph, was quite polluted, we frequently took back roads and trapezed through the rice paddies. Once we crossed the "highway," we went through what we called 'Barnyard Alley,' where goats, chickens, children, cows, and ducks ran loose. From there, we would walk single-file on narrow paths through the bright-green rice fields and then slowly hike up the terraced mountain. Each morning, we would pass children in uniforms going to school. At first they seemed quite shy, shouting hello and asking our names only once we had passed them. But after talking with them over several days, they began to bring us flowers and perform traditional Nepali dances for us, making us feel much more welcome in the community.
After Volunteering
We would stay at the hospital until about 4:00p.m. in the afternoon and then head back down the mountain to do e-mail or whatever else occupied us until 7:00p.m., when we would eat a dinner of dhal bhat, a meal of rice and lentils with sides of potatoes and other vegetable curries. While everything pretty much closes down and the streets become abandoned when the sun sets, some stores are open until 8:00p.m., but that's rare. So in the evening, we'd hang out, hand-wash clothes, and plan adventures for the upcoming weekend.