Stories
HELPING NISHA: Surgeon Successfully Treats Fractured Femur With The Aid Of Global HELP's "TIPS" Series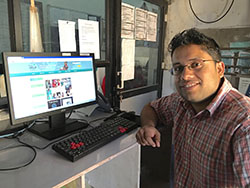 by Lana Staheli
Dr. Mandeep Pathak, an orthopedic surgeon working in the Bayalpata Hospital in rural Western Nepal is no stranger to global-help.org. In a letter to Dr. Robert Yancey, an Orthopedic Surgeon in Gig Harbor, Washington and member of the Global HELP International Advisory Board, Dr. Pathak described his experience treating Nisha, a six year-old Nepalese girl.
Nisha had fallen while playing with her sister and, hearing her screams, her mother rushed to find her daughter holding her rapidly swelling leg. A couple of hours later at Bayalpata Hospital, Dr. Pathak determined that she had broken her femur, resulting in a significant separation of the bone. Because this type of fracture cannot heal properly with just casting, improper or insufficient treatment could have resulted in a permanent disability. Familiar with global-help.org, Dr. Pathak searched for information on how to treat Nisha's injury and found the guidance he was looking for in Dr. Yancey's "TIPS" sheet Management Of Pediatric Femur Fractures With A Single Semi-Rigid Retrograde Nail.
"I had to review the technique of inserting the Yancey nail [on] the website before the surgery," he recalled shortly after the procedure. Thanks to the accuracy and accessibility of Dr. Yancey's publication, Dr. Pathak performed the surgery successfully, and Nisha made a full recovery.
Dr. Yancey's treatment technique was devised to implement common, inexpensive materials. The nail discussed
 in the "TIPS" publication and used by Dr. Pathak costs around five U.S. dollars, while alternative materials used in the West can be priced at hundreds, even thousands, of dollars. On top of using only economical materials, the procedure can be performed without an X-ray machine, greatly increasing its feasibility in low-resource areas…
[Continue Reading]
PACKED WITH INFORMATION: Armed With Global HELP Materials, U.S. Therapist Accomplishes A Special Mission In The Caribbean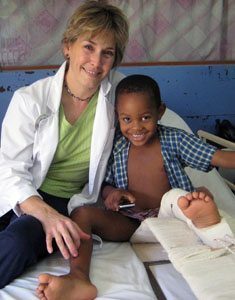 by Brad Chrisman
When Kim Wesdock travels to the Caribbean, she often struggles to keep her luggage under the 50-pound weight limit, but for a different reason than most tourists.
Wesdock, a Virginia-based pediatric physical therapist who has volunteered as a trainer on medical mission trips sponsored by the World Pediatric Project and Health Volunteers Overseas, stuffs her bag with medical textbooks – materials she will use in training sessions with her Caribbean counterparts. And medical textbooks, she notes, are "really heavy things."
"That's where Global HELP has been great," Wesdock says. "We ordered DVDs for the therapists, so each of them went home with a Global HELP DVD. I also downloaded anything specific to pediatric rehabilitation, whether it was wound care, spina bifida, cerebral palsy, etc. I just downloaded them and put them all on a flash drive, so all of the course participants went home with a DVD and a flash drive. The Global HELP materials have been very helpful with that."
Leading trainings in the Caribbean is a much different experience than in the United States, Wesdock says. "They don't have a lot of the specialists that we have in the U.S. They don't have a pediatric neurologist. They don't have urologists for bowel and bladder issues…"
[Continue Reading]
ONLINE LIFELINE: West African Physician Uses Global HELP Materials To Teach Others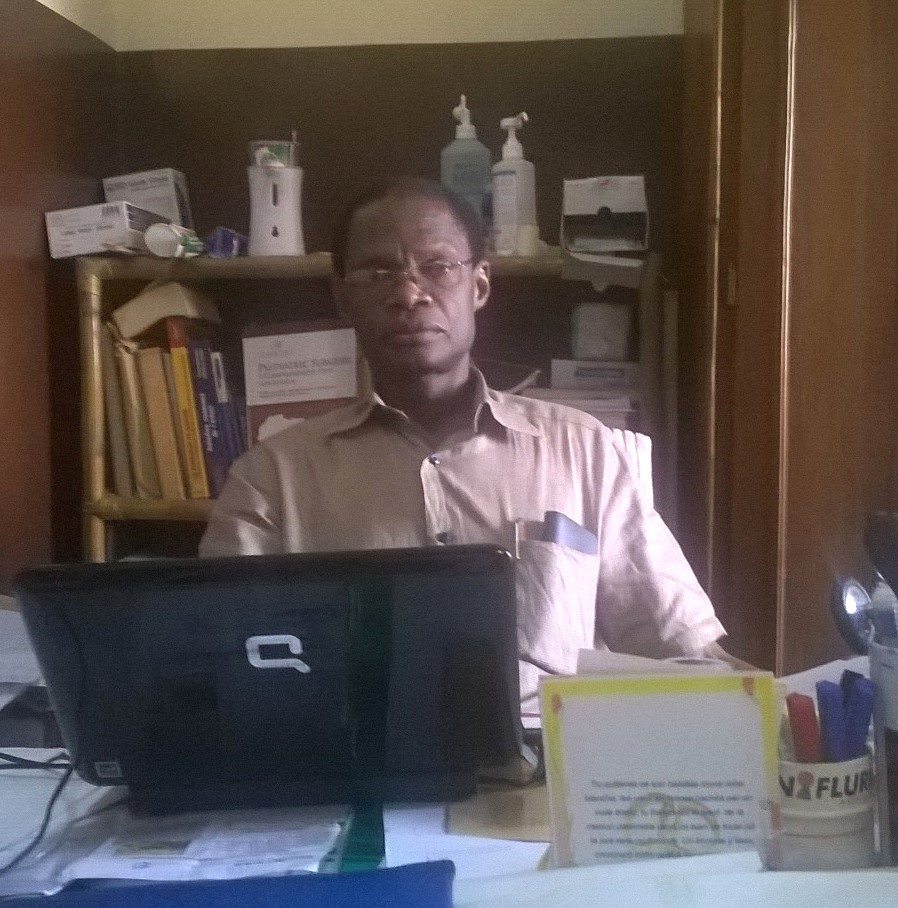 by Brad Chrisman
Dr. Daniel Agbo-Panzo, a pediatric surgeon who works at the largest hospital in Guinea (West Africa), discovered Global HELP in 2011 while searching for documentation on treating clubfoot.
"I was very happy when I found Global HELP," he says. "I work in a teaching hospital, but we don't have a library."
The manual that Agbo-Panzo found – Clubfoot: Ponseti Management – is one of Global HELP's most popular publications. Now in its third edition, the 32-page booklet has been translated into 35 languages, and medical professionals and families in more than 150 countries have downloaded the PDFs.
Agbo-Panzo says he already was familiar with the clubfoot casting technique (developed a decade ago by Dr. Ignacio Ponseti) that is described in the manual. "But with the Global HELP materials, I now teach it to my colleagues," he says, noting that the French-language translation has been especially useful in his country.
In addition to the clubfoot manual, Agbo-Panzo says he makes frequent use of the Atlas Of Pediatric Orthopaedic Surgery, a 908-page textbook on DVD that Global HELP distributes for free to doctors in the developing world…
[Continue Reading]
'YOU JUST HAVE TO DO WHAT YOU CAN DO': In Settings As Different As Indiana & Haiti, Pediatric Physician Finds An Ally In Global HELP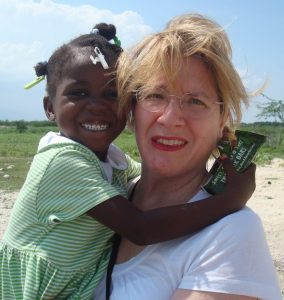 by Brad Chrisman
As an experienced pediatric rehab physician, Kerstin Sobus, M.D., knows that there are no quick remedies for children learning to cope with disabilities. Often, success is measured in small steps.
"I talk to parents about what's it going to take to make your kid as independent as possible so they're ready for kindergarten, then middle school, then high school and so on," the Indianapolis-based doctor says. "That's how I look at it. You just have to do what you can do."
Likewise, in her role as a volunteer on numerous trips to Haiti, Sobus has found that improving the quality of medical care on the Caribbean island can be a slow, deliberate process. But the key to long-term, sustained success, she believes, is helping local medical providers become as independent and self-sufficient as possible.
And in both places – environments as worlds-apart as Indiana and Haiti – she frequently turns to Global HELP as a source for free, high-quality, relevant information.
Sobus says she first learned about Global HELP a several years ago when she was attending a medical conference on cerebral palsy. A colleague showed Sobus the organization's comprehensive, illustrated book The HELP Guide To Cerebral Palsy, and she was immediately impressed…
[Continue Reading]
FINDING ANSWERS IN MOGADISHU: Somali Physical Therapist Relies On Global HELP Information To Treat Children With Clubfoot & Cerebral Palsy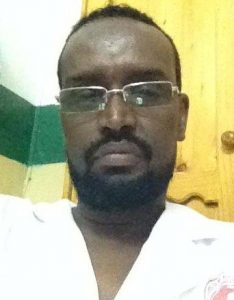 by Brad Chrisman
In his job as a physical therapist in Mogadishu, Somalia, Osman Ibrahim Mohamud has learned to be resourceful.
The Somali Red Crescent rehabilitation center where he works has a small medical library. But he could find few references to help him with growing numbers of cases that he was seeing each week – children born with clubfoot or cerebral palsy.
"We are seeing so many cases of cerebral palsy and children with clubfoot, and we have a shortage of physiotherapists," he says. "We get a lot of CP children, especially after the fall of the government, because the infrastructure here in Somalia has collapsed and there is not any experienced midwife who can deliver the baby."
Armed with a computer, Internet access, and perseverance, Mohamed went looking for answers. He found Global HELP.
"I downloaded both the Clubfoot: Ponseti Management book and the Cerebral Palsy: Treatment & Rehabilitation manual, he says, emphasizing that those two publications have been invaluable to him and his colleagues. "It is very useful to have your organization be the helper for our professional staff…"
[Continue Reading]

Testimonials

Mara Karamitopoulos
Pediatric Orthopaedic Surgeon
U.S.
"Gait can be a challenging topic to teach residents & fellows. Thank you Global HELP and Dr. Sussman for making that process a bit easier. Great series!"

Juan Agustin Valcarce Leon
Pediatric Orthopaedic Surgeon
Mexico
"I always recommend Global HELP to my residents and patients."

Erik Hansen
Physician
Kenya
"As the program director for East Africa's first pediatric surgery training program (affiliated with AIC-Kijabe Hospital and BethanyKids), Pediatric Surgery: A Comprehensive Text For Africa is one of our primary resources for teaching."

Erwin
Parent
Philippines
"Arthrogryposis: A Text Atlas has been very useful in patients' education. I give the link to the parents, they download the book and consult with me periodically about their concerns. All the families are very happy to have a copy of this material because it allows them to understand the diagnosis of their children, what to do, and what to expect. Many thanks for sharing all of these wonderful publications. They're invaluable in a country with most of the population in poverty."

Sunil
Orthotist
India
"Global HELP publications helped me master the Ponseti method for clubfoot management."

Lara
Physiotherapist
Afghanistan
"These materials have been a great and tremendous help for me in organizing scientific sessions to educate other staff on how to improvise with the little resources available to provide the best healthcare in such a rural part of the country. Thank you."

Vince Mosca
Orthopaedist: Foot & Ankle Deformities, Lower Limb Differences
Seattle, U.S.
"I've witnessed Global HELP's mission of the worldwide distribution of low-cost and no-cost publications and videos. Western books and journals are often too expensive, even for Westerners, and the best way to sustain that goal is through local pediatric orthopedic surgeons in their communities. There's documented proof that it's working. [Global HELP] has touched so many children's lives. Awesome!"

Margaret Bradshaw
Physiotherapist
Geelong, Australia & Cambodia
"The Global HELP resources are wonderful. I currently work as a Physiotherapist in DDH, CTEV, and general paediatric orthopaedic clinics in Geelong, Australia, and have often looked at the website for information. Our caseload includes families for whom English is a second language so having access to the parent/patient information publications in different languages is of great benefit. I also work as a volunteer physiotherapist in Cambodia and have spent time with my Khmer colleagues working through resources on the website. I was able to purchase a DVD-Rom Library for the Cambodian team. Please let me know if there is any way I can contribute to Global HELP."

Kishori M. Ojha
Orthopedic Surgeon
Bisheshwar Memorial Hospital, Hazaribag, India
"I found Global HELP while searching for information about the Ponseti method of congenital clubfoot correction. I downloaded the manual from your website and followed the instructions verbatim while treating about 40 clubfeet successfully. I also downloaded the manual on making the Steenbeek braces and gave a copy to the local cobbler (we have no trained orthotists in our area) and he is making the braces. I also downloaded the Hindi (local language) version of the information pamphlet, which explains everything that parents need to know. I'm very grateful for your help."

Aaron Hilis
Orthopaedic & Trauma Specialist
Marqués De Valdecilla University Hospital, Santander, Spain
"I learned about your organization as an intern of orthopaedic surgery, when I was searching for information about the Staheli procedure. Global HELP materials helped me learn more about pediatric orthopaedic pathology. Currently, my practice is focused on spine surgery. Many thanks to your organization."

Nirmal Kumar Dey
Associate Professor, Dept. of Orthopaedics
MGM Medical College, Kisanganj, Bihar, India
"I encourage all the residents in my orthopaedics department to download and study the materials available through Global HELP. It has improved the management of children with clubfoot, CVT, and cerebral palsy."

Denise Watson
Paediatric Orthopaedic Physiotherapy Practitioner
Chelsea and Westminster Hospital, London, U.K.
"I am an extended scope physiotherapy practitioner in London and run a Ponseti clubfoot service. Your Global HELP publication on clubfoot using the Ponseti method has been an invaluable resource for our local multiethinic population and also for training courses that we have run in the U.K. and abroad. Our team recently conducted a training course in Grodno, Belarus, and your publication allowed all of the participants, especially the translator, excellent pre- and post- course material. Many thanks to Global HELP."

Mohamedkader Abdulahi Mohamed
Nurse, Regional Health Bureau
Addis Ababa, Ethiopia
"The maternal health documents that I got from Global HELP helped me intensively in developing maternal and neonatal health strategic plans and documents, as well as guidelines to the respective districts and zonal hospitals. I highly appreciate your up-to-date materials, which are contributing to global and local health improvement."

Dr. Girish Kumar
Indragandhi Institute of Child Health
Bangalore, India
"Global HELP is a wonderful initiative, providing access to quality literature. I am interested in in paediatric orthopaedics, and the books from your organization have helped me understand the subject well. Thank you."

Dr. P. Harish
Assistant Professor, Vijayanagara Institute of Medical Sciences
Vasudev Children's Orthopaedic Centre
Bellary, India
"Global HELP has been very useful for many like me in India, who have limited access to most of the journals and cannot afford to buy expensive books. I am located in a small town named Bellary in the Karnataka state of India, and I work in the local government hospital and also practice paediatric orthopaedics in my private clinic. I learned the art of Ponseti treatment by reading the book downloaded from Global HELP. Today, I have successfully treated more than 300 children with clubfeet. Thanks for being so kind and generous."

Surgical Oncologist & Research Professor, Mexico
"Global HELP is a paradigm that we should all emulate nowadays. Please extend my thanks and recognition to the other collaborators for such distinguished work, so humanitarian, and so relevant, and by offering to help increase awareness of how to move from illness to health."

Medical Resident, Afghanistan
"It is a pleasure to know that such organizations exist. It's really helpful and scientific material, up-to-date and simple to understand. Thank you very much!"

Ignacio Ponseti, Pediatric Orthopaedist, U.S.
"We are very pleased and impressed to see the enormous amount of exposure the Global HELP website has provided throughout the world on our clubfoot treatment. The large number of hits in all languages shows the far-reaching effects of this website."

Orthopaedic Surgeon, India
"I have been regularly accessing the Global HELP website and recommended it to many of my orthopaedic colleagues for the wealth of information it contains, which is of tremendous help to practicing orthopaedic surgeons like me from developing countries. I found the 'Clubfoot: Ponseti Management' publication the most useful and I have started following the Ponseti technique. I have also taught this method to some of my junior trainees. I deeply congratulate and laud the efforts of the team of Global HELP for putting up such wonderful publications and admire the noble work being done. Keep it up."

Director Of Orthopaedic Surgery, Iraq
"I'm an orthopaedic surgeon and I face many cases of trauma, especially these days in Iraq. I need good information regarding flaps and soft-tissue reconstructions so 'McCraw & Arnold's Atlas Of Muscle And Musculocutaneous Flaps' was very beneficial to me."

Pediatrician, Panama
"'The HELP Guide To Cerebral Palsy' is good reading and an awesome book."

Children's Orthopaedist, Vietnam
"I appreciate Global HELP very much and have used the website for many years. I have used the book on cerebral palsy and the materials on clubfoot based on the Ponseti Technique. They are great!"

Pediatric Orthopaedist, Cuba
"I was already familiar with the Ponseti method because it is what I use in my practice, but I was able to download several other guides that I found very interesting and very useful, especially in developing countries with very few resources. I wish you success with your website and hope that you continue publishing on such interesting topics."

Doctor, Nigeria
"'McCraw & Arnold's Atlas Of Muscle And Musculocutaneous Flaps' has been useful to our residents."

Pediatrician, Chile
"Thank you for your excellent publications!"

Physiotherapist, Australia
"I work for an Aboriginal NGO. I'm often looking for clinical resources for our staff, materials particularly useful for practitioners in the field, in remote communities and with minimal resources."

Student, Thaliand
"Thank you for the information."

Clinical Bioengineer, U.K.
"I've seen 'Cerebral Palsy: Treatment & Rehabilitation' before and it gives a great overview to cerebral palsy, has good presentation and is well illustrated with photos."
M.D., Mexico
"I read 'Clubfoot: Ponseti Management' and it is easy to undestand and apply, thanks."

Orthopaedic Surgeon, Canada
"I work with the Karen people, the internally displaced people of Burma, and it's great to have a resource such as this."

Disability Advisor, Italy
"Thank you for sharing your publications!"
Paediatric Physiotherapist, U.K.
"I visit Afghanistan twice a year and we have introduced the Ponseti treatment for clubfoot with great success and value 'Clubfoot: Ponseti Management.'"
Professor, Mexico
"'McCraw & Arnold's Atlas Of Muscle And Musculocutaneous Flaps' is a very good book."
Commercial Loan Assistant, U.S.
"I just wanted to say thanks for publishing 'Clubfoot: Ponseti Management.'
"When I found out at 30 weeks gestation that my twins (age 3 now) were to be born with bilateral clubfoot, I was in tears. I knew very little to nothing about the birth defect. We searched and found this manual and read the complete thing, front to back, three or four times prior to our consultation with Dr. Ponseti's colleague, Jose Morcuende. We only live two hours from Iowa City, Iowa, U.S. where Ponseti and Morcuende practice. When Morcuende asked what I knew about the condition, I pulled the manual out from my bag and told him all my information came from it. Needless to say, my appointment lasted about 15 minutes. He couldn't really tell me anything more than I already knew and said that the outcome of the girls' treatment would probably be very good since I was so well informed. He said the more informed parents are, the more they understand the condition/treatment and are more likely to rigidly adhere to the program.
"The girls are doing well. In fact, after four castings, they did not even need the tenotomy. The fifth cast stayed on for two weeks, and now we are in our Ponseti AFO Brace.
"Thanks again for publishing this information and offering it free on your website. I believe I would have had a much more difficult time dealing with the clubfoot if I had not had this manual. I hope you are able to continue and broaden the scope of material offered."