Bibliography Of Orthopaedic Problems In Developing Countries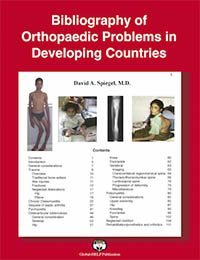 Details
This publication provides a current annotated bibliography of common orthopaedic problems seen in developing countries. A member of HELP's Orthopaedic Board, Dr. David Spiegel is a pediatric orthopaedist with extensive clinical experience throughout the world.

Funding for this project was provided by Dr. Spiegel's parents, Irving & Judith Spiegel, who currently live in Edison, New Jersey of the United States.
Survey
As thanks for the free download, while you wait, please help us out by filling out a short, voluntary, and confidential survey.