Deformidades Angulares De Las Extremidades Inferiores En La Edad Infantil Y Adolescencia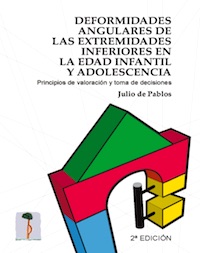 Details
Dra. Dalia Sepúlveda A., Pediatric Orthopaedic Surgeon & Medical Editor writes:
"Dr. D. Julio de Pablos is the most prolific contemporary Spanish Pediatric Orthopaedic Surgeon publishing investigative as well as clinical books and papers. Dr. De Pablos trained at the University of Navarra in Pamplona, Spain, under the direction of the outstanding specialist Professor Jose Canadell."

"The book presented here, "Deformidades Angulares De Las Extremidades Inferiores En La Edad Infantil Y Adolescencia" ("Limb Angular Deformities In Childhood & Adolescents"), is written in a very simple but effective medical style, and the goal of teaching the understanding and planning treatment of most angular deformities is achieved from the beginning."

"We encourage young specialists to use this interesting and accessible summary during clinical evaluation of their patients and to consequently help plan the proper surgical treatments. They will find here the answers to many frequent questions related to the planning of surgical correction for the angular deformities in children and adolescents."

Julio De Pablos writes:
"Ortopedia podría traducirse como el arte de mantener rectos o corregir deformidades de los niños. Al menos, eso es lo que aparentemente quería expresar Nicholas Andry, quien acuñó este término que aparece en su libro 'L'Orthopédie ou l'art de prevenir et de corriger dans les enfants les difformités du corps" publicado al final del siglo XVIII. Podríamos decir por tanto que en las siguientes páginas estaremos tratando sobre la esencia de nuestra especialidad como cirujanos ortopédicos: el manejo de las deformidades angulares (DDAA) del esqueleto."

"Evidentemente, una Deformidad Angular (DA) esquelética plantea un claro problema mecánico (hay unos ejes y ángulos alterados en el hueso/miembro en cuestión) pero, sobre todo cuando la DA asienta en un hueso inmaduro, los aspectos biológicos de la deformidad adquieren una importancia tan grande como los mecánicos. Esto es así porque, al contrario que en los adultos, el esqueleto de los niños se caracteriza por su continuo cambio expresado fundamentalmente en el crecimiento y la gran capacidad osteogénica y de remodelación lo cual tiene una indudable influencia no solo en la Historia Natural de la DA sino también en la respuesta al tratamiento instaurado."
"Por otro lado, incidiendo en este importante aspecto biológico de las DDAA, hay tratamientos, como la cirugía fisaria que solo pueden emplearse en los pacientes inmaduros, es decir, con cartílago de crecimiento presente."
"En este trabajo trataremos, por tanto, de ayudar al lector a realizar, además del lógico y esencial análisis mecánico, también la valoración de aquellos aspectos biológicos que consideramos de importancia para la planificación y ejecución de la corrección de las DDAA del esqueleto infantil."

"Trataremos también, y ese ha sido unos de los fines principales de este manuscrito, de comentar las diferentes fases en el manejo de las DDAA (análisis mecánico, valoración biológica, planificación y ejecución) de manera sencilla, comprensible y aplicable por todos; con ello el objetivo final de nuestra actividad como médicos/cirujanos, que no es otro que ayudar al paciente, podrá estar más a nuestro alcance."

"Por último, advertiremos que de las casi infinitas variantes posibles de DDAA y con el fin de ser prácticos en nuestros planteamientos nos detendremos principalmente en las más frecuentemente encontradas en la clínica diaria y, sobre todo, en las de las EEII."
Survey
As thanks for the free download, while you wait, please help us out by filling out a short, voluntary, and confidential survey.