Easter Seal Guide To Children's Orthopaedics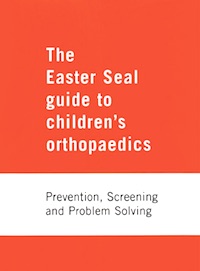 Details
Children's orthopaedics can be an easy and satisfying field for the family physician. This simple guide, which can be read in an evening, provides just enough information to do it with style. The emphasis is on solving everyday problems; the details of the care of once-in-a-lifetime cases are left for thicker books.

There is a quiz at the end and hand-outs you can photocopy to give to parents.

The Easter Seal Society brings you this booklet with the hope that it will awaken an interest in children. The Easter Seal Society is dedicated to the prevention and care of physically disabling conditions in children.
Survey
As thanks for the free download, while you wait, please help us out by filling out a short, voluntary, and confidential survey.