Enfermedad Luxante De Cadera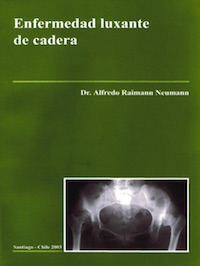 Alfredo Raimann Neumann. 205 pages, 8.5" x 11", Black & White, Spanish, 2008.
Originally published by Editorial IKU, 2003.
Details
Dra. Dalia Sepúlveda A., Pediatric Orthopaedic Surgeon & Medical Editor writes:
"This is a complete and serious summary of Developmental Dysplasia of the Hip (DDH) and a masterpiece by Professor Alfredo Raimann Neumann, the very first well-known Pediatric Orthopaedic Surgeon from Chile, South America, and honorary member of Sociedad Latinoamericana de Ortopedia Y Traumatología Infantil (SLAOTI)."

"Thanks to Dr. Raimann's effort, DDH has reached a point in Chile where surgery has dramatically decreased as a need for treatment. For decades, his emphasis on early detection has been the goal of hundreds of young fellows in the country."

"We hope this book will help other Spanish-reading colleagues as well as medical students around the world."