Textbook Of Pediatric Orthopaedics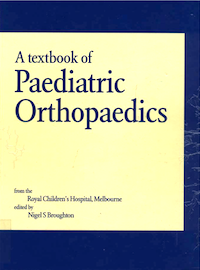 Details
"A Textbook Of Pediatric Orthopaedics" is designed to provide a text for orthopaedic surgeons in training to a depth required for Fellowship or Board examinations. Many of the contributors have been examiners at this level and give a valuable insight into the knowledge required.

In using only contributors from the Orthopaedic Department at the Royal Children's Hospital, Melbourne, the book can provide the expertise in all areas and also combine in a consistency of philosophy and overall management. Appropriate editing has also produced a consistency of style and presentation so the facts can be easily understood and learned.

The book should appeal not only to trainees about to take examinations, but also to general orthopaedic surgeons requiring an up-to-date overview of pediatric orthopaedics. Hopefully, it will inspire some young surgeons to pursue a career in an area in which all the contributors feel privileged to be involved.
Survey
As thanks for the free download, while you wait, please help us out by filling out a short, voluntary, and confidential survey.