War Injuries, Trauma, & Disaster Relief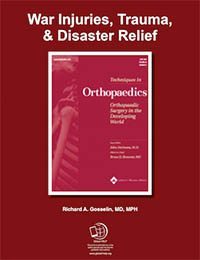 Details
An article originally published in the June 2005 edition of "Techniques In Orthopaedics" (Volume 20, Number 2). Licensed and reprinted with the permission of Lippincott Williams & Wilkins.

Some volunteer surgeons may be interested in providing care for civilian victims of war in developing countries.

More commonly, volunteers will be increasingly confronted with nonintentional acute and chronic trauma cases, mostly from road traffic accidents. On rare occasions, they might even participate in the relief and reconstruction efforts after natural disasters.

There are significant differences between the type and management of cases seen overseas versus those seen at home.
Translators
Russian translation by Nataliia Moskalenko.
Survey
As thanks for the free download, while you wait, please help us out by filling out a short, voluntary, and confidential survey.