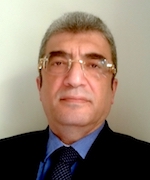 Biography
• Pediatric Orthopaedic Surgeon interested mainly in spine deformity in children, cerebral palsy, and feet deformities.
• Associate Professor in Polytechnique University, Palestine
• Head of the orthopaedic program in Palestine International Cooperation Agency (PICA)
• Adjunct Assistant Professor in Medical University Of South Carolina
• Member in EPOS, POSNA, SRS, SICOT, NASS, AOSpine, and Pan Arab Orthopedic Society
• Member in Task Force Education Strategy Committee in AOSpine
• Member in the Fellowship Committee in SICOT
• International Board Member for AOSpine (2016-2018)
• Member POSNA & COUR (2014-2017)
• Participated in the Arabic translation of three books for Global HELP:
Sequelae Of Septic Arthritis Of The Hip
Basics Of Wound Care
Clubfoot: Ponseti Management
• In 2017, contributed to a training workshop for scoliosis surgery in Rwanda. Currently running pediatric spine education programs in Mozambique (three-year training program at Maputo Central Hospital) and Pakistan (two-year fellowship in pediatric spine at Lahore Children's Hospital).