What Parents Should Know About Flatfeet, Intoeing, Bent Legs, And Shoes For Children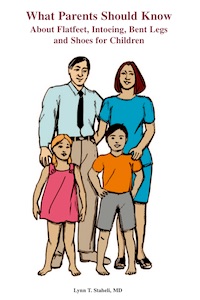 Details
This publication is available in several formats, providing information for families about common developmental variations in infants and children. These variations include flatfeet, intoeing, and bent legs. Suggestions are provided in selecting the best shoes for children. We emphasize that these conditions are usually variations of normal and will resolve spontaneously without treatment.
Translators
Edited by Lana Staheli. Cover by Pam Little. Arabic translation by Firas Suleiman. Chinese translation by Lin Feng. Czech translation by Janka Tothova. Greek translation by Anastasios Kanellopoulos, Milly Konstantinidou, & Christina Nila. Hebrew translation by Udi Lebel. Russian translation by Vladimir Kenis. Spanish translation by Aurelio G. Martinez-Lozano. Thai translation by Panya Surijamorn.
Survey
As thanks for the free download, while you wait, please help us out by filling out a short, voluntary, and confidential survey.