McCraw & Arnold's Atlas Of Muscle & Musculocutaneous Flaps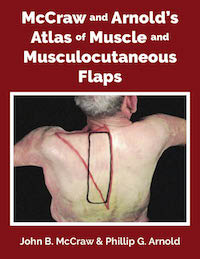 Details
Originally published by Hampton Press Publishing Company in 1986, "McCraw & Arnold's Atlas Of Muscle And Musculocutaneous Flaps" is a full-color volume showing the reconstructive options for specific anatomical areas. Each flap is demonstrated in cadaver dissection and clinical case photographs, and the text is in an easy-to-read outline format to serve as a ready reference for the anatomical basis and clinical application of each flap. Highlights are the full-color photographs and the extensive bibliographies.

Thanks to Interplast for working with Global HELP in reproducing this book for posterity.
Contents
Survey
As thanks for the free download, while you wait, please help us out by filling out a short, voluntary, and confidential survey.